Lasercut wall art children's room
€30,00
So no inspiration for the design of the baby room? Then a personal wooden text or name is the ideal solution! Design your own unique wooden wall decoration on the wall. Choose your beautiful handwritten decorative letter, or do you prefer the sleek font?
Description
Design your own unique wooden text or name for the wall. With our design tool you can easily choose different fonts and you can also adjust the size of the wooden text. You quickly make a children's room unique with wooden letters on the wall or on the box. Choose a nice spell or the name of your child or another nice word. Do you want a nice handwritten decorative letter, or do you prefer a sleek font?
The wooden letters are perfect as decoration for the baby or nursery. The name of the child, a beautiful poem or just a single word such as "tough" or "sweet", give it something special. An ideal accessory to personalize the baby room of the newborn sprout. For example, stick the name of your child above the cradle or on the door.
Do you prefer a nice text in your living room? Then follow this one link to see what that looks like.
Nice to give
Do you want something special as a baby shower gift? Then a personal wooden text or name is perfect!
Different materials
We can produce custom-made texts in various materials, such as mdf, oak veneer, melamine-faced white mdf and plexiglass. Do you want a different material? Please contact us. The mdf is great fun to paint, upholster or wallpaper to your own taste! So you can make it yourself what you want. You will get started with wallpaper, paint, fabric and glitter. This is also fun to do with your son or daughter. The oak veneer has a somewhat more luxurious appearance and has a thickness of 6 mm, creating a beautiful drop shadow on the wall. The applied wood oil ensures that the grain of the oak wood comes into its own even more. The melamine-faced white mfd comes into its own on a colored wall, which gives a nice contrast.
Are you unsure about the type of wood? First order our wood samples !
Easy confirmation wooden letters
The confirmation of the wooden text is surprisingly simple. The material has high-quality double-sided tape on the back. With the included molds of the you can easily stick the individual letters in the right position on the wall.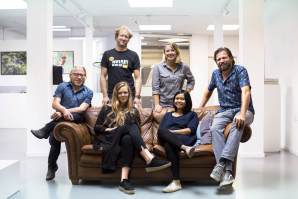 Do you have questions?
We are ready for you!
We want to take away all your worries and therefore answer your questions with love and pleasure. With our many years of experience, we know exactly what is possible.
Contact
Meest gestelde vragen