Wooden house number sign at the front door – handmade with love
Design your own wooden house number sign at the front door, completely to your taste. With our online design tool you can add names, house numbers and images and easily create your unique wooden house number sign. An original and personal nameplate next to your front door is of course the finishing touch that makes your home complete!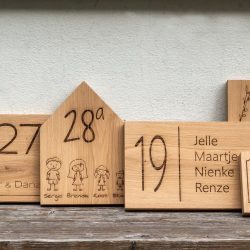 1. Choose your nameplate
Choose from a landscape or portrait rectangle, or a house number plate in the shape of a house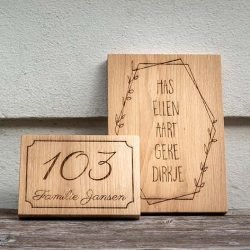 2. Choose your size
Are you going for a
medium (17 x 12 cm) or
large (24 x 17 cm) format?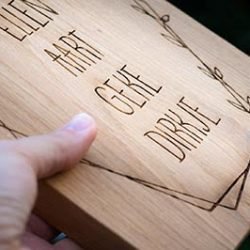 Your own logo
Design your text and illustrations on the personalized house number plate
How to mount your personal wooden house number
Watch the video how you can easily attach your personal wooden house number to the wall. We supply our house number signs as standard with all the necessities to hang it up.
Easy and simple!
Want to know more about
the wooden nameplate?
Your design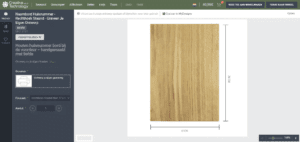 With the online design tool you can make all your design ideas a reality. You can add your house number, the names of your housemates and, for example, the names of your pets on the board. You can choose from all kinds of fonts, shapes and images, with which you can create your personalized design yourself. With our design tool you can easily create your own design. Are you satisfied with your design? Then checkout and we will get to work for you.
Are you stuck? Call or email us and we'll see if we can help you with your design. Do you have an image that you would like to use on the plate? This is sometimes possible. Please email the image to info@creativeuseoftechnology.com then we'll see what's possible.
Designs
Formats
montage
Material & Finish
Wooden house number sign at the front door | Unique and personalized
Your house is your palace. Fully furnished to your own taste, your unique home! On the outside, however, we all have one of those boring house numbers plate hanging on the wall by the front door. Totally impersonal! That can be different, right?
Design your wooden house number sign at the front door with a nice font, a nice illustration and your own layout. You are completely free to design the outdoor nameplate however you want.
A wooden house number sign at the front door is the calling card for your house.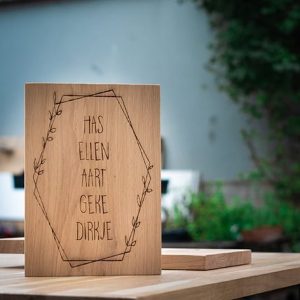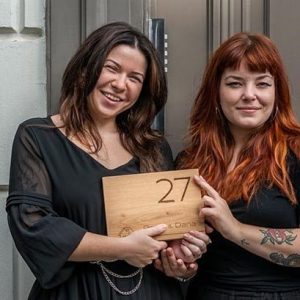 Greay as a housewarming gift
Sometimes it is difficult to think of an original gift to someone. The possibility to make your own unique, personalized house number sign at the front door is not only fun for yourself, but also perfect to give as a housewarming gift. Guaranteed success
With every purchaseon our website, you help plant a tree in one of the delapidated forests around the world. Together with Trees for Allwe plant half of your trees in the Netherlands and the other half in one of our international forest projects. Together we make the world green again!
"It is a creative group of people who work on a small scale. The information is clear, the communication clear, the product meets expectations and the delivery is on time."
Jolanda R.
30-04-2020
"Fast contact, clear answers, fast delivery as agreed, beautiful product at a competitive price."
Simone L.
30-09-2020
"Fast response to questions, even outside office hours. Tailor-made ideas are provided, much is possible. Fast delivery. You can order here with confidence."
M Stokla
20-05-2020
"Top company, delivery is fast as stated. The response to questions in my mail I received very quickly. Thank you for this good service, I will certainly recommend you to my friends and family grz Kitty"
Kitty
17-05-2020
"I would recommend this online store because the after-sales is above average. The challenge I had after an order has been resolved to more than satisfaction."
Maridjan RT
03-03-2020
Our team is ready for you! Give us a call, send us an email or message us via Whatsapp chat.

Check out our other personalized wooden house number plates