How to mount your personal wooden house number
Personalized wooden house number sign – handmade with love
Design your own personalized wooden house number sign now, completely to your taste. With our online design tool you can add names, house numbers and images and easily create your unique wooden house number sign. An original and personal nameplate next to your front door is of course the finishing touch that makes your home complete!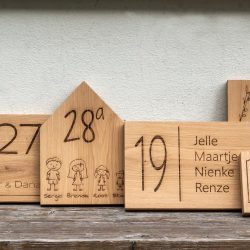 1. Choose your nameplate
Choose from a landscape or portrait rectangle, or a house number plate in the shape of a house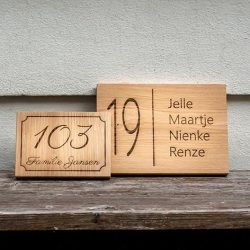 2. Choose your size
Are you going for a
medium (17 x 12 cm) or
large (24 x 17 cm) format?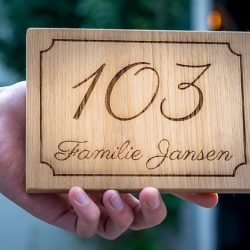 Your own logo
Design your text and illustrations on the personalized house number plate
Would you like to know more about the wooden nameplate?
Your design
Designs
Formats
montage
Material & Finish
Your design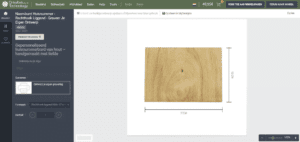 With the online design tool you can make all your design ideas a reality. You can add your house number, the names of your housemates and, for example, the names of your pets on the board. You can choose from all kinds of fonts, shapes and images, with which you can create your personalized design yourself. With our design tool you can easily create your own design. Are you satisfied with your design? Then checkout and we will get to work for you.
Are you stuck? Call or email us and we'll see if we can help you with your design. Do you have an image that you would like to use on the plate? This is sometimes possible. Please email the image to info@creativeuseoftechnology.com then we'll see what's possible.
Designs
Formats
montage
Material & Finish
Check out our other products