How do you make your personal keychain?
142 / 5000 Translation results With our online design tool you can add names, text and/or images and easily create your unique leather or wooden key ring. An original and personal keychain on your key ring, who wouldn't want that?
Wooden keychain with name – handmade with love
Do you always lose your keys? Or have your best friends just bought a new house? This sturdy leather key ring is a unique gift for any occasion. You design it yourself with a name or text. But of course you can also order an engraved key ring for yourself. Super nice for your key ring or bag. This leather key ring is made of 100% vegetable tanned leather. So the very best quality. All you have to do is add a name or text in the design tool, then we get to work. You are sure to impress with such a unique key ring.
1. Choose your keychain
Within our collection we have different types of key rings, made of wood and leather.
2. Choose your shape
We have different shapes available. Are you going for a round, right angle, hexagon, puzzle or heart?
Your own logo
Design your text and illustrations on the personalized key ring
Want to know more about
the wooden keychain with name?
Your design
Designs
Formats
Material & Finish
Your design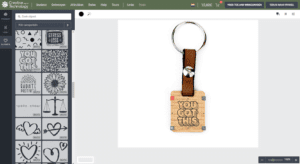 With the online design tool you can make all your design ideas a reality. You can have your house number, your own name or a beautiful appropriate quote engraved on the leather key ring. You can choose from all kinds of fonts, shapes and images, with which you can create your personalized design yourself. With our design tool you can easily create your own design. Are you satisfied with your design? Then checkout and we will get to work for you.
Are you stuck? No problem. Call or email us and we'll see if we can help you with your design. Do you have an image or logo of your company that you would like to engrave on the key ring? This is sometimes possible. Please email the image to [email protected] then we'll see what's possible.
Designs
Formats
Material & Finish
Wooden keychain with name | Unique and personalized
A leather key ring is a wonderful way to express your personality. Whether with a quote, image, name or logo, it always brings you back to a beautiful memory. Design your own leather keychain using our design tool, choose from our different colors. Press the green 'personalise' button and start making your unique leather keychain. In our design tool you can personalize the gift completely to your liking with your own image and/or text.
Make it unique and make it personal.
Sometimes it is difficult to think of an original gift for someone. The possibility to make your own unique, personalized leather keychain with name makes this not only fun for yourself, but also perfect for a housewarming, when your best friend moves in together or as a surprise during a birthday or the holidays.
Guaranteed success
Check out our other products