Wooden watch - personalize it yourself!
Will you be wearing a trendy wooden watch soon? The wood, in combination with the stylish design, gives the watch a natural and luxurious look. All watches contain a high quality quartz clockwork and are made of 100% real wood. This ensures that the watch feels light on the wrist. Each watch is made from a unique piece of wood, so the wood patterns differ with each watch. The watches are therefore always one of a kind!
Would you like to know more about the wooden watch?
Your design
Size
Dispatch
Return/Warranty
Your design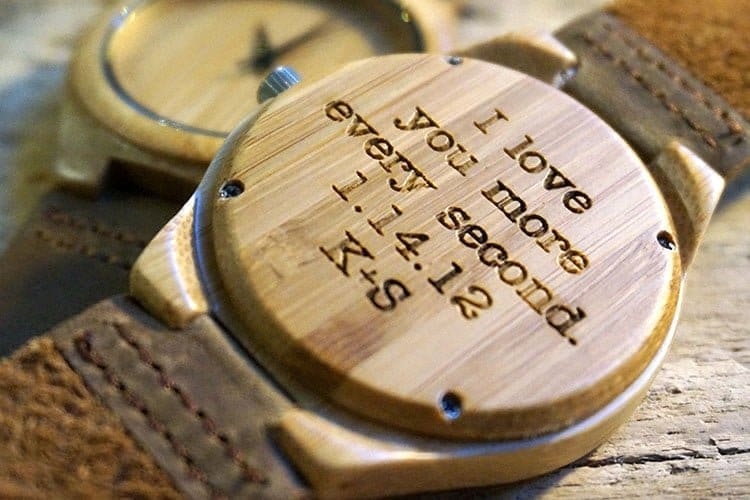 With the online design tool you can make all your design ideas a reality. You can go for a unique personal text, icons or even an image.
By adding a personal message, the watch is not only fun for yourself, but also perfect to give as a gift. Guaranteed success
It is also possible to have your own image or logo engraved. Send us an emailwith the logo. Then we make an example of your design.
Size
Dispatch
Return/Warranty
"It is a creative group of people who work on a small scale. The information is clear, the communication clear, the product meets expectations and the delivery is on time."
Jolanda R.
30-04-2020
"Fast contact, clear answers, fast delivery as agreed, beautiful product at a competitive price."
Simone L.
30-09-2020
"Fast response to questions, even outside office hours. Tailor-made ideas are provided, much is possible. Fast delivery. You can order here with confidence."
M Stokla
20-05-2020
"Top company, delivery is fast as stated. The response to questions in my mail I received very quickly. Thank you for this good service, I will certainly recommend you to my friends and family grz Kitty"
Kitty
17-05-2020
"I would recommend this online store because the after-sales is above average. The challenge I had after an order has been resolved to more than satisfaction."
Maridjan RT
03-03-2020
Within 1 to 3 working days!
We engrave the watches in our own workshop in Breda. After your order, we will engrave the watch immediately and then it will be sent to the post.
Do you have an image or logo that you would like to use in your design? Send us the image using this form . Then we can see if we can add it to our design tool.
For this we prefer a file in .ai .png or .pdf. Don't have any of the above files? Then you can also send the image as .jpg.
The engraving will always be dark, which is why we prefer a black and white image. If you don't have this, we will convert the image into black and white for you.
Would you like to order several watches in one go, for example for your employees or customers? Then you can get a volume discount from us! The watch is in fact extremely suitable to give as a promotional gift.
The discount is based on the quantity and the engraving. So contactus for a nice discount and we will see together what we can make for you!
Our team is ready for you! Give us a call, send us an email or message us via Whatsapp chat.