Dreaming where your next trip is going to or showing where you have been in the world? Choose our wooden world map.
Which wooden world map do you choose?
Have you been looking at a monotonous wall for years? With a wooden world map you can bring atmosphere to your living room. Cherish your travel memories and dream destinations with our beautiful, detailed world map and bring a worldly atmosphere to your living room. With your friends you always have a topic of conversation about all corners of the world. What is your next destination?
Which projection are you going for - Antarctica or Mercator?
You can project the world in different ways. There are 2 versions of the world map, the so-called Antarctica and the Mercator projection.
The Antarctica projection is a bit wider and more stretched, the Mercator projection is a bit higher and less stretched and has more detail.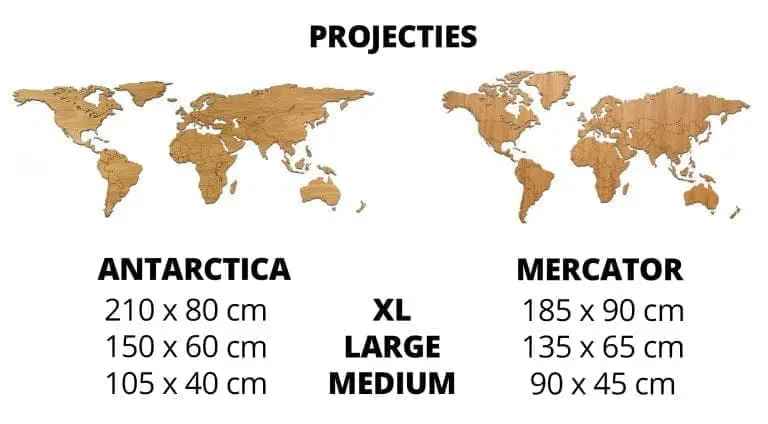 Which world map do you choose?
Mark where you have been or want to go with a wooden world map. Complete with placemarkers. The precise country boundaries give the wooden world map a beautiful detail. The world map is available in 4 types of wood: black, oak, walnut and bamboo.
• Housewarming gift • Give your interior a warm atmosphere • Discover all corners of the world •
• Surprise your dinner guests • Plan your next destination • Indicate where you've been or want to go •
Easy to hang. Watch the instruction video
With every purchase on our website you help plant a tree and restore the outdated forests in the Netherlands and abroad. Together with Trees for All, we plant half of your trees in the Netherlands and the other half in one of our international forest projects. Together we make the world green again!