A leather wallet is alive, durable, qualitative and becomes more and more beautiful and personal through use. This leather wallet is a unique gift for yourself or someone else. Make it unique by engraving your own name, your initials, or a nice quote on the front. A leather wallet is a good investment that you can enjoy for years to come!
Want to know more about the wallet?
Your design
Extra compartments
Unique
Leather
Your design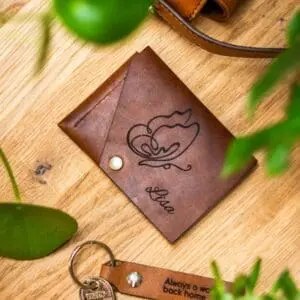 With the online design tool you can make all your design ideas a reality. You can go for a unique personal text, icons or even an image.
By adding a personal message, the wallet is not only fun for yourself, but also perfect for giving as a gift. Use it yourself or give it as a gift to a friend. Guaranteed success
It is also possible to have your own image or logo engraved. Send us an emailwith the logo. Then we make an example of your design.
Extra compartments
Unique
Leather
Check out our other products