Will you soon be wearing a trendy wooden watch? The wood in combination with the stylish design gives the watch a natural and luxurious look. All watches contain a high quality quartz movement and are made from 100% real wood. This ensures that the watches feel light on the wrist. Each watch is made of a unique piece of wood, so the wood patterns differ with each watch. The watches are therefore always one of a kind!
MAKE THE WATCH PERSONAL
Personalize the watch and have it engraved on the back! With the help of our design tool you can have your own personal text engraved. This can be a name, date or personal message. A unique gift for for example Mother's Day, Valentine, Christmas or a birthday
---
---
OUR COLLECTION OF WOODEN WATCHES
You can choose from two types of wooden watches. A wooden watch with a leather strap or a fully wooden watch with a wooden strap. The watches are made from sustainable wood like bamboo, zebrano or sandalwood. Each of these types of wood has its own unique color! The matching wooden link bands are made from the same wood as the watch case. The leather straps are made from 100% genuine leather and have a closure that is completely nickel-free.
---
Both large (45 mm) and small (40 and 35 mm) models are ordered by men and women. Which size suits you best depends on your taste and the size of your wrist. The size says something about the diameter of the clock and with the strap you can adjust the watch size around your wrist. In general we see that the smaller models are ordered for ladies and the larger models for men.
---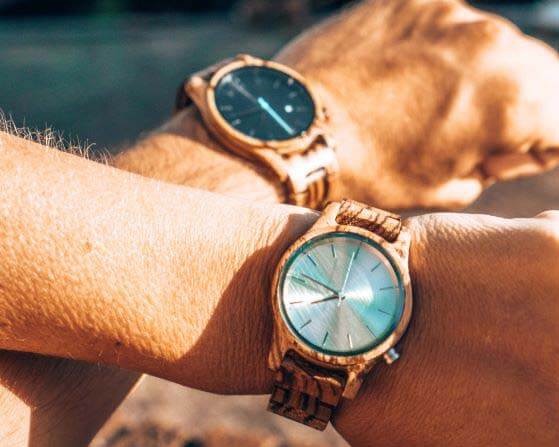 ---
The watches are designed for normal use and are splash-proof. We definitely advise against taking an extensive shower with your watch still on the wrist. Of course it is no problem if you walk through it in the rain or catch some splashes while washing your hands.
FREE SHIPPING!
We ship our watches for free! The watch comes in an elegant, durable package; perfectly suited to give as a gift! After placing your order, we will ship the watch within 1 to 3 business days. Are you in a hurry? Send us an email after you placed your order, and we will pick up the order for you quickly!