It is cliché, but your wedding day is a very special day. You would like to know who all have been there and what message they had for you. With our custom-made guest book, you are sure to impress. The wooden cover is fully designable, including illustrations, and you can engrave your own names and wedding date (or any other text) on it.
Delivered within 1-3 working days
Want to know more about the guestbook?
Your design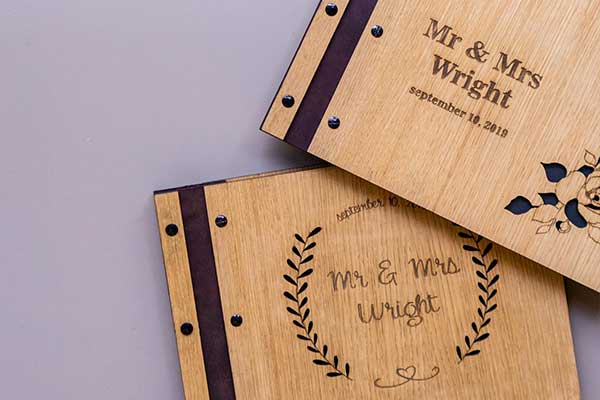 In our design tool you have all the possibilities to create your own personal wooden guestbook. You can use various illustrations and different fonts.
Do you really want a completely custom designed cover with your own illustrations and layout? Or do you want parts of the cover cut out? That is possible too! Then contact us and tell us what your ideas are. You can also ask a question via Whatsapp !
Size
Material
"It is a creative club of people working on a small scale. The information is clear, the communication is clear, the product meets expectations and the delivery is on time."
Jolanda R.
30-04-2020
"Quick contact, clear answers, fast delivery as agreed, beautiful product at a competitive price."
Simone L.
30-09-2020
"Quick response to questions, even outside office hours. Tailor-made thinking, much is possible and negotiable. Smooth delivery. You can order here with peace of mind."
M Stokla
20-05-2020
"Top company, the delivery is fast as stated. The response to my mail questions I received very quickly. Thank you for this good service, I will definitely recommend you to my friends and family gr Kitty"
Kitty
17-05-2020
"I would recommend this shop because the after-sales are above average. The challenge I had after placing an order was solved to my satisfaction."
Maridjan RT
03-03-2020
Within 1 to 3 working days!
We design, make and engrave the guest books in our own workshop in Breda. After your order, we will engrave the holder immediately and it will be sent by post.
Do you have an image or logo you would like to use in your design? Please contact us and email the file. Then we can see if we can add it to our design tool.
For this we prefer an .ai .png or .pdf file. Do you not have any of the above files? Then you can also send the image as a .jpg.
The engraving will always be dark, which is why we prefer a black and white image. If you do not have this, we will convert the image to black and white for you.
Would you like to order several wallets at once, for example for your employees or customers? Then you can get a discount with us! The wallet is very suitable to give as a business gift.
The discount is based on the amount of wallets and the engraving. Please contact us for a nice discount and together we will see what we can do for you!
Our team is ready for you! Give us a call, send us an email or message us on the Whatsapp chat.